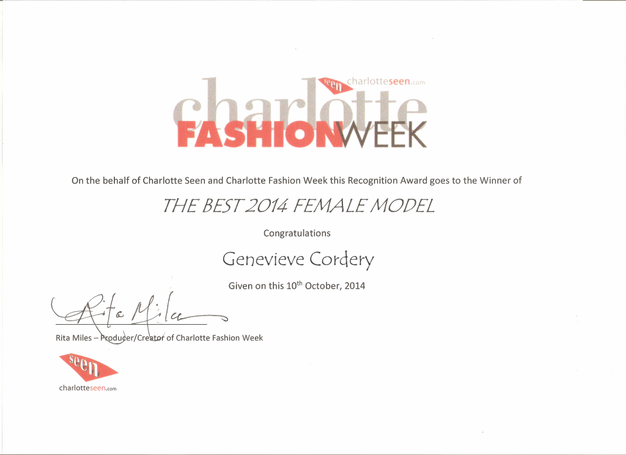 Charlotte Seen held their annual Charlotte Fashion Week on September 2 – 5. I had the privilege of walking the runway for two award-winning recyclable designers; Malou Cordery and Venie Tadeo.
Every year, Charlotte Seen hosts two fashion events. In April there is Passport for Fashion; a dazzling, one-night show featuring emerging designers, established designers and recyclable designers. In September there is Charlotte Fashion Week; an exciting, week-long show that also features emerging designers, established designers and recyclable designers. During these events, there are always judges who examine the models' runway walks, the designer's handy-work, the hair, the makeup, and more. They then, assign points and decide who will win specific awards during the awards night.
On Thursday, September 4, I wore a Fifth Third Bank themed dress and accessories by Cordery. The headpiece was created by Tadeo and my hair was styled by Paul Mitchell School. I even did my own makeup.  I really had a lot of fun in this outfit. I felt like a princess with my long, fluffy, curled hair that bounced as I walked. I also loved the swish of the skirt. Walking in this dress was probably the most fun I have ever had in my four years of walking the runway.

Designer: Malou Cordery | Fifth Third Bank dress | Photo by: Michael Burgan; Charlotte Model Experience
Earlier this year, Cordery was voted Passport for Fashion Best Designer 2014 (for her museum design.)
The following night, I wore a Bank of America themed dress by Tadeo.  The hair was done by Paul Mitchell School and I did my own makeup again. This was, by far, the most difficult dress I ever had to walk in. I couldn't even climb up or down the stairs to the runway- I had to be lifted by the models and designers behind me. The dress was so tight that I could only swing my legs around from below the knee. Can you imagine what that looked like underneath? I was basically walking like Shaggy Rogers from the knees down! But hey, you can't tell! It was a very intriguing dress and it looks just like the Bank of America building in downtown Charlotte. And yes, the headpiece was extremely heavy but it looked amazing.
Designer: Venie Tadeo | Bank of America dress | Photo by: Jammin JP Productions
Tadeo won Charlotte Fashion Week Best Designer 1st Runner Up 2014. 
I had a blast walking in both of these outfits. They were each handmade from recyclable materials and both designers took their time getting each dress to fully represent their chosen buildings.
(Cordery also designed a Ballantyne Village Theater themed dress that was absolutely gorgeous, as well as two Levine Children's Hospital themed dresses for two young models to wear.)
Designer: Malou Cordery | Model: Angie Anglero | Levine Children's Hospital dress | Photo by: Montavious Javarr Torrence
Designer: Malou Cordery | Model: Alyson Cordery | Ballantyne Village Theater dress | Photo by: PlainJane Supermodels
 Designer: Malou Cordery | Model: Madison Edwards | Levine Children's Hospital dress | Photo by: Malou Cordery
The Charlotte Seen Awards Night was on Friday, October 10th. Many awards were to be given out that night, the most prestigious being: Model of the Year and Best Recyclable Designer. Unfortunately, I could not attend but my parents and uncle were present.
Around 9:30 p.m. I received a phone call from my dad, informing me of the judges' final decisions.
…And the Model of the Year award goes to…me?!…
To be honest, I thought my dad was lying to me, but after a few minutes I began jumping up and down. Did I really win?
 I am deeply honored to receive this award and I will treasure it always. I am truly grateful to have this experience under my belt and I will remember this moment for the rest of my life.
Watch the walk that granted me this amazing title:
[Just as a heads up, YouTube keeps muting and un-muting my video because they can't make up their minds about whether the audio is a copyright infringement or not. It's not, I have full permission to use this audio from Charlotte Seen and DJ Jammin JP.]