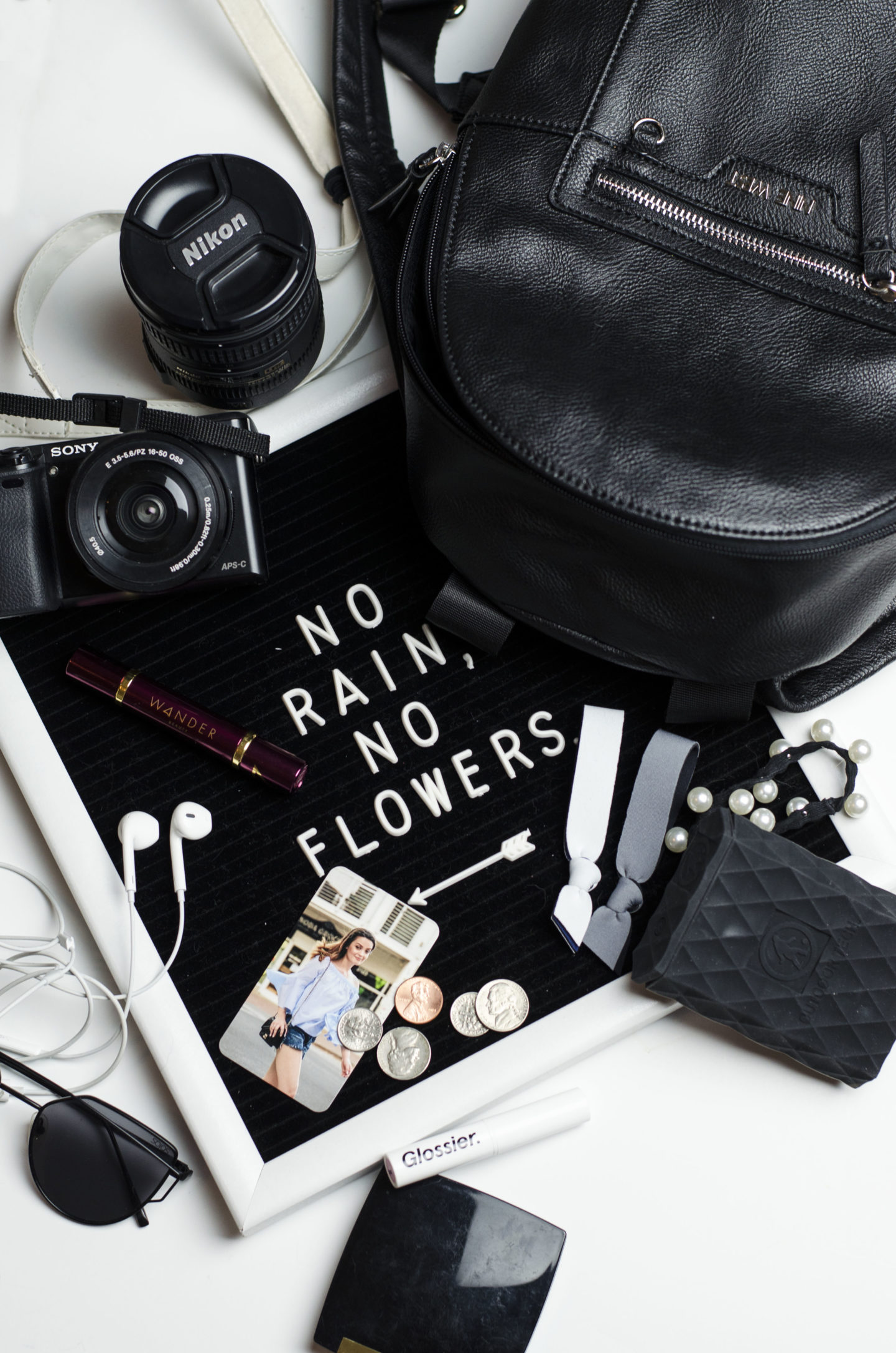 In less than 24 hours, I will be in New York City for the first time!
So that means it's time to start packing – Is it bad that I haven't started packing yet? Well, anyway, there are a few things that I am definitely going to be packing in my bag, but first I wanted to admire this small Nine West backpack. I purchased this bag for my trip to New York City because I know I am going to be hauling around my wallet, vlog camera, and my Nikon every single day. Rather than carrying several bags, it makes sense to have a stylish backpack to carry everything that works well with each outfit.
Camera + Accessories
My Nikon, which I used to take these photos, my spare lens, and my vlog camera are going to live out of this backpack the entire trip. I have to document everything and snap as many photos as I can because I'm a nutty tourist. lol – New Yorkers will hate me, huh?
Portable Charger
With all the walking I will be doing, I'm not sure I will able to make my way to an outlet to charge my phone. Having a portable charger on you is crucial if you want to continue your cell phone or Instagram addiction. This one has seen better days, but it's been on a few trips with me already and seriously packs a punch.
Makeup
I'm packing my favorite Lancôme compact foundation. Unfortunately, the exterior got a little banged up inside my purse, hence all the scratches in the photos. I'm also going to bring my Wander Beauty dual lippies and my Glossier Generation G. These three lippies are super hydrating and long-lasting so I wanted to make sure to keep them on hand.
Business Cards
Yep. You read that correctly. I got myself freaking business cards!! I'm hoping that I will cultivate new relationships and meet interesting people in New York, so I wanted to have a card that would make a lasting impression. If any of you live in NY, email me so we can grab some coffee or go shopping together!
MISC
I checked the weather and it's still going to be pretty hot in NYC, so I'm bringing my favorite EmiJay hair ties to put my hair up. I'm also bringing my favorite sunnies that you've probably seen in several posts. I just can't get enough of it.
What do you like to pack in your bag when you are in New York City?
(Also wish me luck with packing – I need it.)