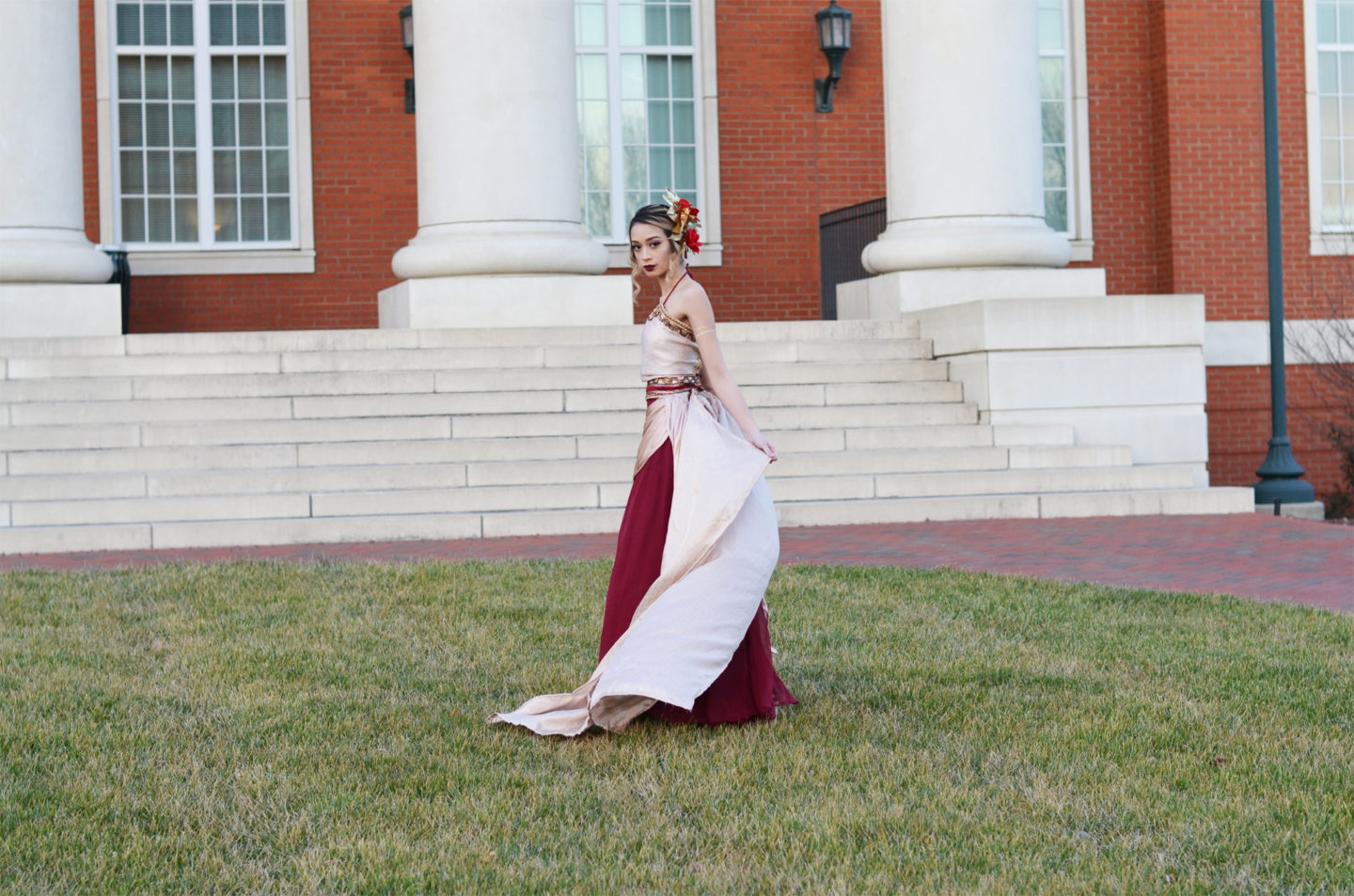 A couple weekends ago, I was behind the camera during my first ever fashion photo shoot. I was nervous. We decided to shoot at golden hour, which meant I had limited time to use natural lighting before the sun disappeared below the horizon. I wanted the images to be something I could really be proud of, so I had to make sure I did everything right.
I wanted the subject to stand out from the background and surroundings. I knew a shallow depth-of-field would be the best way to achieve this, so I decided to shoot with a 50mm f/1.8G lens. This lens also captures every detail, and the dress is ornate, therefore, I wanted to be sure I captured all of the aspects of the dress in every photo.
Other than the fact that I am inexperienced at fashion photography, I was concerned with the weather. This is a Spring/Summer dress but it was February and only 40-something degrees outside. I knew the model would need to be kept warm, and I knew as the sun got closer to the horizon the temperature would rapidly drop. It's definitely important to keep the subject of your images comfortable, so they can have a good time taking photos and walk away with a positive experience.
I definitely made a couple of mistakes during this shoot. The first mistake happened when my fingers started to go numb. I can't wear my super thick gloves and take photos at the same time, so I switched the camera to Auto Focus with the intention of switching back to Manual Focus on our way to the next location. Unfortunately, I shot in Auto for the remainder of the shoot because I forgot to switch back. This resulted in a handful of potentially amazing images that I messed up, simply because the camera auto-focused on the background rather than on my subject.
My second mistake was rushing. I wasn't sure how much time I'd have before it was too dark, so I thought I didn't have time to stop and really look over my pictures. I knew as I was capturing shots that I was getting some fantastic looks, but after reviewing the images at home, I realized I had not been shooting in manual. If I hadn't been rushing, I would have noticed that some of the pictures were blurry, just by reviewing them.
In the end, everyone involved in the shoot walked away with smiles. We all knew we had captured some
great shots, and I knew that I didn't let myself down. The
images you see in this post are my favorites from that day. For my first fashion shoot, I am pretty proud of how it all panned out.
This dress was made by a local upcycled/recycled designer, Malou Cordery, who was participating in an auction-styled fashion show.
If you are wondering why her last name looks familiar, it's because she is my talented mom, and the model in the photographs is my younger sister! My dad was my partner in this shoot; he helped scout out locations on UNC Charlotte's campus so that we could maximize our time spent at each location and make the most of the limited light. I am glad I could start my fashion photography journey off right by using my supportive family members who didn't mind standing outside in the freezing cold with blankets to create some gorgeous images.
All images in this post were taken and edited by me. Thanks for all your support!